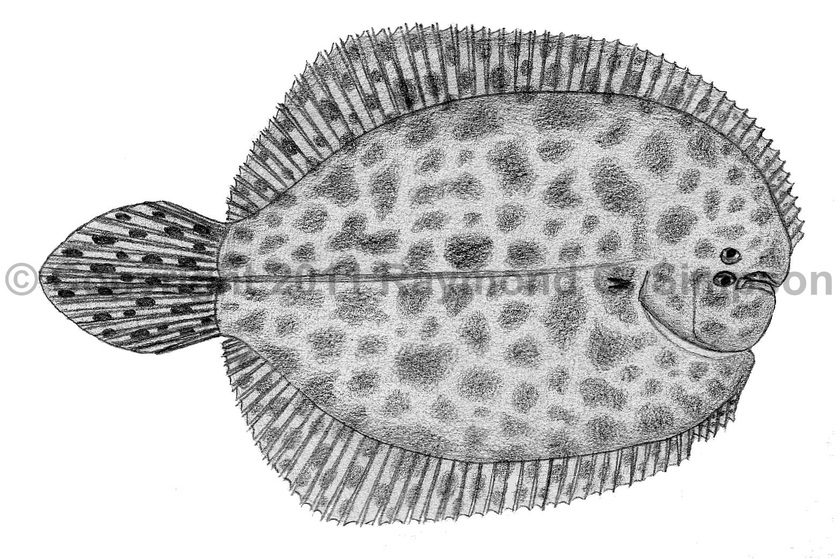 Common Name
Garman's Sole
Year Described
Jordan, 1889
Identification
Dorsal Fin: 53-60
Anal Fin: 39-50
Pectoral Fin: 2
Pelvic Fin: 5
Deep bodied and elliptical. Mouth small and terminal. Eyes small. Opening present ventral to the interbranchial septum. Fimbriae present on head and mouth.
Color
Body brown with numerous narrow dark crossbands and/or dark spots on body. Fins with alternating dark and lighter areas. Caudal fin with dark spots. Blind side white.
Size
Maximum size to 17cm SL.
Habitat
Inshore coastal and estuarine areas over soft bottoms. Frequently found in freshwater.
Range
Southwestern Atlantic: SE Brazil to N. Argentina
References
Figueiredo, J.L. and N.A. Menezes. 2000. Manual de peixes marinhos do sudeste do Brasil. VI.Teleostei (5). Museu de Zoologia, Universidade de São Paulo. Brazil. 116 p.
Santos, A. C. A., Oliveira-Silva, J. T., Moura, P. E. S., y Sena, M. P. 2009. Ampliação do limite norte de distribuição geográfica de Catathyridium garmani (Jordan & Goss 1889) (Actinopterygii: Achiridae). Biota Neotropica, v. 9, p. 10-16.