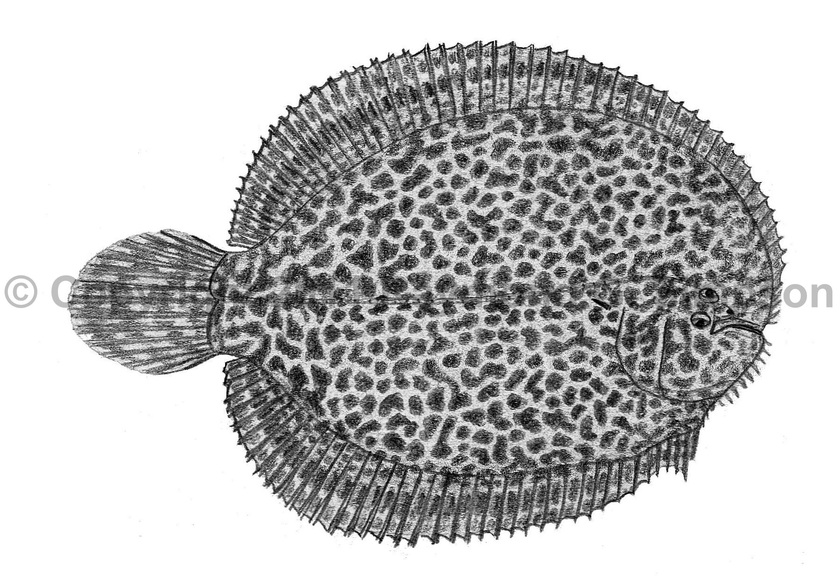 Common Name
Smalleye Sole
Year Described
Chabanaud, 1928
Identification
Dorsal Fin: 48-53
Anal Fin: 34-37
Pectoral Fin: 1 (rudimentary)
Pelvic Fin:
Deep and elliptical in body shape. Body and dorsal/anal fins with small ctenoid scales. Skin not loose. Mouth tiny and subterminal. Jaws with villiform teeth on blind side of jaws only. Eyes relatively small (2.5-3.0 times in snout length). Opercular opening very small, interbranchial foramen absent.
Color
Brown with a bold contrasting pattern of closely packed small dark spots. Dorsal and anal fins with elongated dark spots running lengthwise on the fins. Caudal fin with dark spots. Blind side pale.
Size
Adults to 8.5cm SL.
Habitat
Shallow waters and brackish lagoons.
Range
South America: Trinidad and Tobago to SE Brazil.
References
Figueiredo, J.L. and N.A. Menezes. 2000. Manual de peixes marinhos do sudeste do Brasil. VI.Teleostei (5). Museu de Zoologia, Universidade de São Paulo. Brazil. 116 p.
Munroe, T.A. 2002. Achiridae (pp 1925-1933). In: Carpenter. 2002. The living marine resources of the Western Central Atlantic. Vol. 3: Bony fishes part 2 (Opistognathidae to Molidae), sea turtles and sea mammals. FAO Species Identification Guides for Fisheries Purposes. American Society of Ichthyologists and Herpetologists Special Publication No. 5.