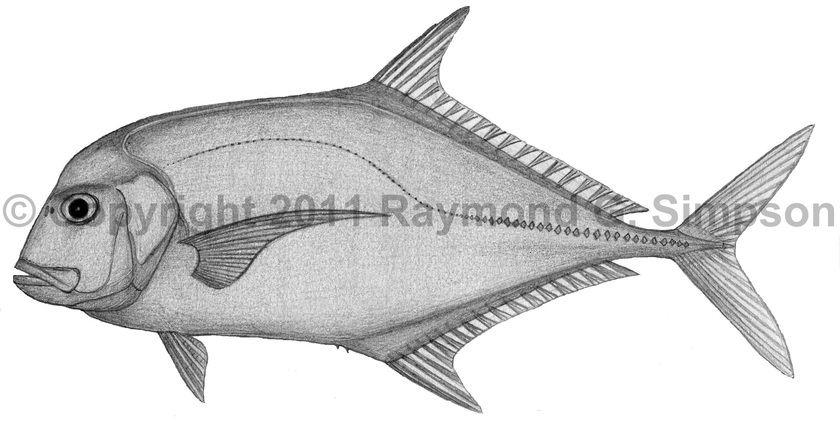 Common Name
African Pompano
Year Described
Bloch, 1788
Identification
Dorsal Fin: First dorsal: 7 spines (embedded in the skin in larger fish), followed by I, 18-19.
Anal Fin: 2 spines (embedded in larger fish), followed by I, 15-17.
Gill Rakers: 4-6 upper, 12-17 lower, 18-22 total
Vertebrae: 10 precaudal, 14 caudal
Deep bodied, tapering at dorsal/anal fin bases to deeply forked tail. Head profile rounded with a rather large eye. Anterior part of dorsal and anal fins with a raised lobe, greatly elongated into threadlike extensions in smaller fishes. Pelvic fin also extremely elongated in young fish. Pectoral fin falcate, longer than head. Lateral line arched anteriorly with 12-30 scutes on the posterior, straight portion. Bilateral caudal keels present. Scales minute where present; fish appears and feels naked.
Color
Larger fish bright silver with metallic bluish sheen dorsally. Juveniles silvery with a dark blotch on the anterior dorsal fin, often with indistinct body bars or a eye bar. Fins dark in juveniles, especially the filamentous extensions.
Size
Common <100cm. Maximum size to 150 cm.
Habitat
Coastal waters over the bottom, usually <60m depth. Juveniles pelagic.
Range
Widespread in the Atlantic from Massachusetts to Brazil
References
Smith-Vaniz, W.F. 2003. Carangidae (pp 1426-1468). In: Carpenter. 2003. The living marine resources of the Western Central Atlantic v. 3.