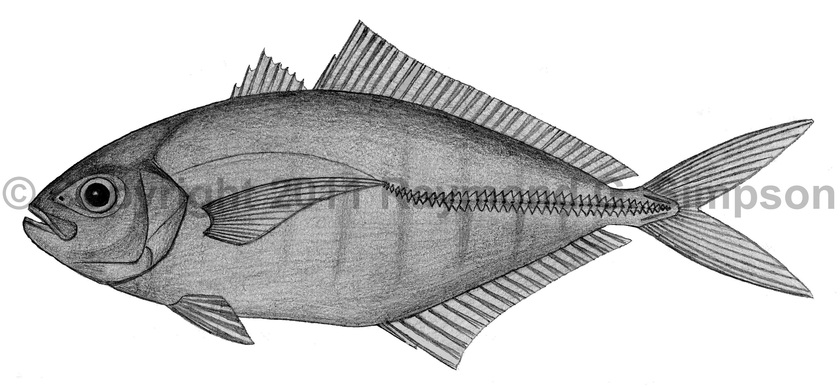 Common Name
Cottonmouth Jack
Year Described
Poey, 1860
Identification
Dorsal Fin: 8 spines in first lobe, followed by I, 27-32
Anal Fin: 2 spines (embedded in larger fish), followed by I, 19-23
Pelvic Fin: I, 5
Gill Rakers: 3-8 upper, 13-16 lower
Vertebrae: 10 precaudal, 14 caudal
Body oval-shaped and deep, with smallish eye. Jaw extends to, or just past, anterior margin of eye. Teeth is 2-4 rows in small fish, a single row in large ones. The dorsal and anal fins have very low anterior lobes, with the spiny portion of the dorsal fin being much lower than the rear rayed portion. Pectoral fin falcate, longer than head. Tail deeply forked. A moderate arch is present on the first half of the lateral line, the posterior half straight with 26-40 scutes. Bilateral caudal keels only moderately developed in large specimens. Body smooth to the touch, with tiny cycloid scales. Chest scaled halfway up to pectoral base.
Color
Body dusky to dark gray to bluish-gray grading lighter below, with darker fins. Smaller fish with several dark bars on the body. Interior of mouth and tongue white.
Size
Averages less than 35cm. Maximum to 44cm.
Habitat
Pelagic in the open ocean, solitary or in small groups.
Range
Widely scattered records in the western Atlantic, from of the eastern U.S., the Gulf of Mexico, Bermuda, Puerto Rico, Suriname, Colombia, and Brazil. May be conspecific with U. helvola, which is found in the Pacific and indian Oceans.
References
Smith-Vaniz, W.F. 2003. Carangidae (pp 1426-1468). In: Carpenter. 2003. The living marine resources of the Western Central Atlantic v. 3.