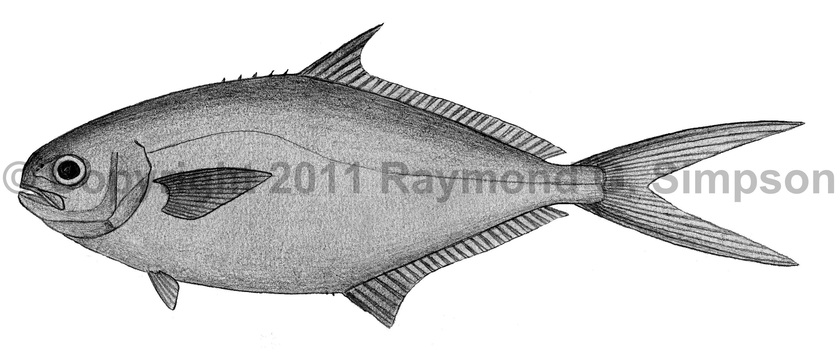 Common Name
Cayenne Pompano
Year Described
Cuvier & Valenciennes, 1832
Identification
Dorsal Fin: 5 spines (inconspicuous in larger fish), followed by I, 26-29
Anal Fin: 2 spines, followed by I-23-27
Pelvic Fin: I, 5
Gill Rakers: 6-8 upper, 14-17 lower
Vertebrae: 10 precaudal, 14 caudal
An elongate, diamond shaped species for its genus. Dorsal and ventral profile similar with a blunt, rounded snout. Eye is small and the jaw extends to the anterior margin of eye. Teeth small but always present. Dorsal and anal fins with short anterior lobes, extending well short of caudal fin when depressed. Pelvic fin tiny. Pectoral fin small. Tail large and deeply forked. Lateral line with a shallow anterior arch, then straight with no scutes. No caudal groove or keel. Body smooth with partially embedded cycloid scales.
Color
Silvery with a gray to bluish back and head. Belly and fins yellowish with dark anterior lobes of dorsal and anal fins. Pectoral fins dark. Caudal fin yellowish with darker margin. Juveniles paler with more yellow.
Size
Averages to 35cm. Maximum size to 47cm.
Habitat
Coastal waters from 16-63m. Juveniles in shallower water.
Range
Northern South America from Venezuela to Brazil
References
Smith-Vaniz, W.F. 2003. Carangidae (pp 1426-1468). In: Carpenter. 2003. The living marine resources of the Western Central Atlantic v. 3.