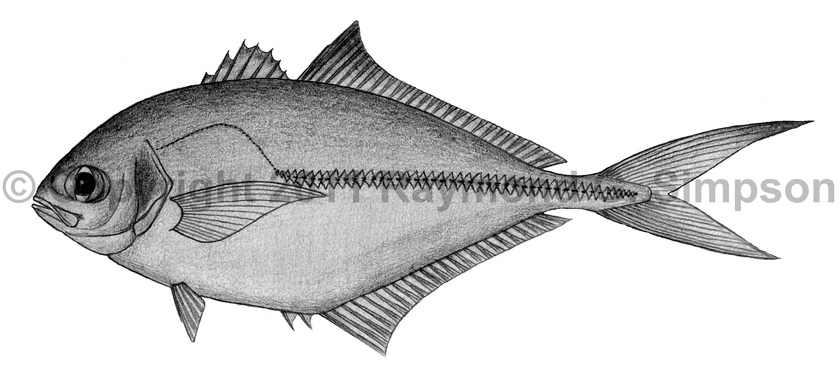 Common Name
Bluntnose Jack
Year Described
Cuvier & Valenciennes, 1832
Identification
Dorsal Fin: 7 spines in first lobe, followed by I, 25-30
Anal Fin: 2 spines separate from rest, followed by I, 21-26
Pelvic Fin: I, 5
Gill Rakers: 7-10 upper, 18-23 lower
Vertebrae: 10 precaudal, 16 caudal
Elongate and deep-bodied, with a large head, blunt snout, and small eye (3.3-4.3 times in HL). Adipose eyelid weak. Jaw small; reaches anterior margin of eye. Teeth blunt, usually in a single row in both jaws. Pectoral fins falcate, longer than head. Spiny dorsal fin lower than lobe of second dorsal fin. Anterior lobe of second dorsal and anal fin slightly raised. Tail deeply forked, with the upper lobe up to 1.3 times longer than the lower. Lateral line with an anterior arch and a straight posterior portion with 38-56 scutes. Small cycloid scales on entire body, including chest. Caudal keels absent.
Color
Blue-gray to bluish-green above, silvery on sides and belly. A dark blotch on the opercle edge. Dorsal fin clear with a dark margin. Anal fin clear. Caudal fin yellowish. Juveniles with 4-5 body bands and a large opercular blotch.
Size
Common to 18cm. Maximum size to 29cm.
Habitat
Inshore (<50m), over the bottom or semipelagic. Juveniles tolerate lower salinities. Solitary or in small groups as adults.
Range
Gulf of Mexico to SE Brazil, with few records up the U.S. east coast to the Carolinas. Scattered records around the Caribbean islands (Cuba, Trinidad).
References
Smith-Vaniz, W.F. 2003. Carangidae (pp 1426-1468). In: Carpenter. 2003. The living marine resources of the Western Central Atlantic v. 3.