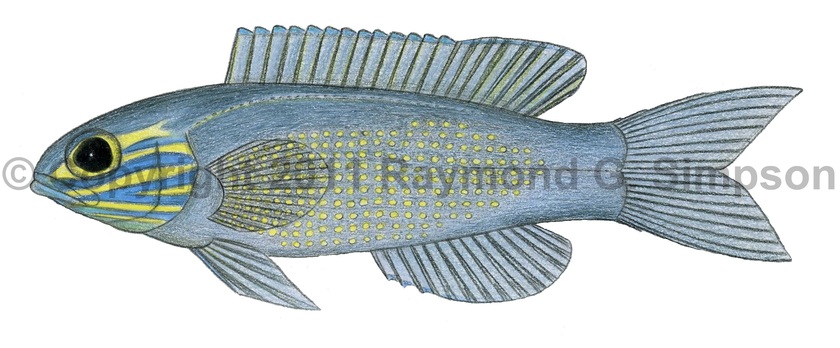 Common Name
Yellowlined Basslet
Year Described
Starck & Colin, 1978
Identification
Dorsal Fin: XIII-XIV, 9-10
Anal Fin: III, 10-11
Pelvic Fin: I, 5
Pectoral Fin: 16-18
Caudal Rays: 17 (principal)
Gill Rakers: 30-35 total
Vertebrae:
Lateral Scale Rows:
Stout with large eye and blunt snout. Pelvic fin rather short, barely reaches anal fin orgin. Lateral line with two parts: the anterior portion on upper body and ending at last dorsal ray and the posterior portion on middle of caudal peduncle reaching anteriorly to middle of soft dorsal. Preopercle serrated. Procurrent caudal rays not thickened. Caudal fin emarginate.
Color
Blue-gray to turquoise-gray, becoming paler ventrally. The scales on the body often have bright yellow centers, but fade dorsally to uniform blue-gray. Cheek has 4-5 striking yellow stripes, separated by light blue pigment. Eye is bright yellow with blue on the upper and lower part. Fins are body colored (anal and pelvic lighter), often with slight yellowish wash. Dorsal and anal fins with bright blue edges.
Size
Maximum size to 70mm.
Habitat
Deep reefs, drop-offs, and overhangs from 20-130m. Often swims upside down.
Range
Scattered records in the Caribbean Sea: Bahamas, Mexico, Belize, Jamaica, and Puerto Rico.
References
Hardy, J.D. 2005. Chapter 121: Grammatidae, p. 1341-1351. In: Richards, W.J. (Ed.). Early Stages of Atlantic Fishes: An Identification Guide for the Western Central North Atlantic. CRC Press, Boca Raton, Florida.
Mooi, R.D. 2002. Grammatidae. In: FAO Species Identification Guide to Fishes of the Western Atlantic. (ed. Carpenter K), pp. 1308–1369. UN FAO Publishers, Rome.